Press Release
April 4 2013
Children's Stories Help Rebuild Nation
New Brunswick writer K.V. Johansen will be a guest of honour at the Days of Canadian Literature event April 26-28 in Skopje, the capital of Macedonia, a country that gained independence from Yugoslavia in the 1990s.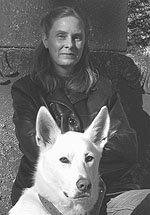 Half the size of Nova Scotia, Macedonia avoided the worst of the violence and ethnic cleansing in the civil wars of the former Yugoslavia. Macedonian writers and publishers are now hoping to create not only a new nation, but a new children's literature that will contribute to a peaceful and tolerant future in which both of the country's dominant languages – Macedonian and Albanian – will be cherished and supported.

Johansen will be speaking in Skopje about the Canadian experience of multiculturalism in literature, and will also be launching the Macedonian-language edition of her children's novel Torrie and the Pirate-Queen (Тори и пиратската кралица - translated by Marija Todorova, published by Vermilion Books, Skopje). Another book in the series, Torrie and the Snake Prince, was picked by IBBY (the International Board on Books for Young People) for their 2011 list of Outstanding Books for Young People with Disabilities, and was translated into Macedonian and published in 2010 as Тори и принцот-змија.

For more information on Johansen, visit her website at: www.pippin.ca
For author photos, cover images, or to arrange interviews,
please contact: thewildforest@gmail.com
Johansen's travel is supported by the Canada Council for the Arts.
Cette tournée est soutenue par le Conseil des Arts du Canada.